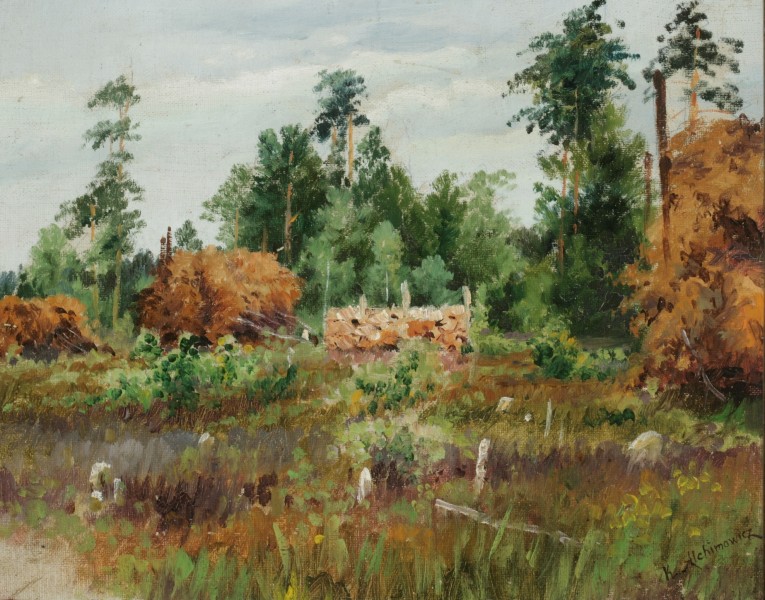 Clearing in the forest
Author:
Kazimierz Alchimowicz (

184

0–

191

6)

Created:
late

19

th century
Material:
canvas, cardboard
Technique:
oil
Dimensions:

31.70

×

40

cm
Signature:

bottom right: K. Alchimowicz
Painter K. Alchimowicz was a graduate of the Munich Academy of Art, which in the 20th century, was famous for its democratic atmosphere and new progressive teaching methods.  The academic rules there were more flexible than in other academies of art of that period: much attention was paid to direct science studies as a base for the plastic form of art – colouring, lighting and the general mood of the picture. Clearing in the forest is one of such nature studies that picture the mature greenery – slightly worn by the heat and drought of the summer.
Source: Valiunas Ellex (LAWIN until 2015) art album: THE WORLD OF LANDSCAPES I (2010). Text authors Nijolė Tumėnienė, Dalia Tarandaitė, RES PUBLICA (2018). Compiler and author Rūta Janonienė
Expositions: "The Painter of Pagan Lithuania: Kazimierz Alchimowitcz",
29
October –
6
November
2020
, Vilnius Picture Gallery (Didžioji St. 
4
, Vilnius).