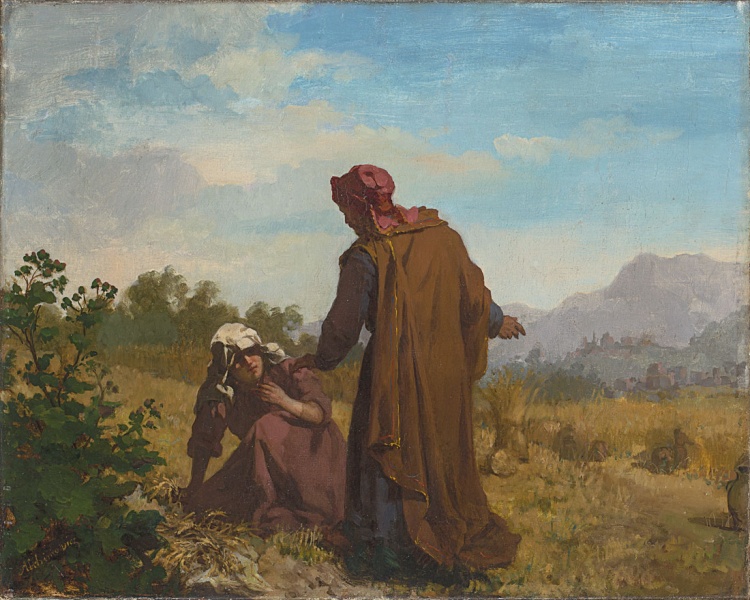 Ruth in the field of Boaz
Author:
Kazimierz Alchimowicz (

184

0–

191

6)

Created:

1830

s
Material:
canvas
Technique:
oil
Dimensions:

48

×

60

cm
Signature:

bottom left: Alchimowicz

On the reverse: the stamp of an art supplies dealer in Munich: MALTUCH & FARBEN / RICHARD WURM / MÜNCHEN
This picture depicts the episode in the Book of Ruth in the Old Testament (Ruth 2, 1–13, 23) during which Ruth meets Boaz. According to the Holy Scriptures, Elimelek, his wife Naomi and their sons fled from famine in Israel to the flatlands of Moab. There, the sons married local women. Ten years later, Naomi and her Moabite daughter-in-law Ruth learned that the famine in Israel was over, and returned to Bethlehem. When Ruth arrived, she worked as hard as she could in order to provide for both women, in a country that was foreign to her. Once, when she was following the harvesters gleaning corn in a field, she was noticed by Boaz, the owner of the field. He was impressed by her hard work and her sense of duty to her poor mother-in-law, and allowed her to gather grain until the end of the harvest. Later, he married her. They had a son called Obed, who was the father of Jesse, and the grandfather of David.
The story is understood as an example of charity and of the kindness of Jews towards foreigners. However, usually the beauty and feminine modesty of the Moabite woman is highlighted in works of art. This picture by Kazimierz Alchimowicz (1840–1916) is an impressive rendering of Ruth's confusion when she catches Boaz's eye, and of his generosity, expressed by his kind gesture.
Text author Dalia Vasiliūnienė
Source: Valiunas Ellex (LAWIN until 2015) art album: HEAVEN AND BEYOND (2016). Compiler Dalia Vasiliūnienė. Text authors Dalia Vasiliūnienė, Skaidrė Urbonienė, RES PUBLICA (2018). Compiler and author Rūta Janonienė
Expositions: "Heaven and Beyond. Works of religious art from the collection of Rolandas Valiūnas and the law firm Valiunas Ellex",
31
May–
2

4
September
201

6
, Church Heritage Museum, Vilnius (curators Dalia Vasiliūnienė, Skaidrė Urbonienė); "Pagoniškos Lietuvos tapytojas Kazimieras Alchimavičius",
2020
spalio
29
–
2020
lapkričio
6
d., Vilniaus paveikslų galerijoje (Didžioji g.
4
, Vilnius). Parodos kuratorė Dalia Tarandaitė.