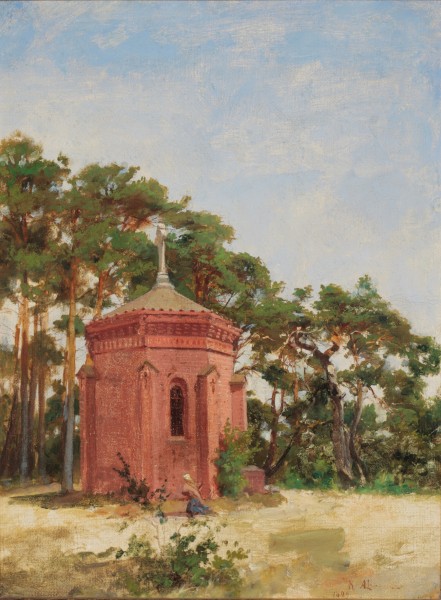 The chapel on Birutė Hill
Kazimierz Alchimowicz (1840–1916) was born in near Lida and finished school in Vilnius. For his participation in the 1863 uprising, he was deported to Siberia. After being granted amnesty, he did not return to his homeland; instead, he obtained permission to live in Warsaw and stayed there until his death. He learned painting at a Warsaw drawing class and W. Gerson's private studio and continued his studies at the Munich Academy of Art. He managed a few visits to Lithuania and sent his works to art exhibitions held in Vilnius. In his works, he developed a Lithuanian theme and painted pictures on Lithuanian history, mythology and Lithuanian landscapes. For his landscapes, he often chose places of historical importance to Lithuania. One such place is Birutė's hill in Palanga. According to the legend, the ancient Lithuanian gods were worshipped on that mountain and a sacred fire burned. The Priestess Birutė's duty was to guard the altar and the legend has it that she is buried in the same place. In 1506, a chapel was built in her honour. In 1753, it was renovated, and in 1869, the present chapel, which is in the picture, was built.
Text author Dalia Tarandaitė
Kazimierz Alchimowicz (1840–1916) had a lifelong interest in Lithuania. He was especially attracted by the history and mythology of pagan Lithuania, as his compositions Milda and The Burial of Gediminas, which brought him fame, illustrate. He was happy when painting landscapes of his homeland and scenes of ordinary life. After the 1863 uprising he was exiled to Siberia. On his return, he was not allowed to live in Lithuania, although that did not stop him making occasional visits. According to his extant work, at the very end of the 19th century, Alchimowicz visited Kretinga and Palanga in coastal Lithuania. The painting The chapel on Birutė Hill immortalises the Neo-Gothic Chapel of St George, built at Palanga in 1869 by the Tyszkiewicz family. The artist liked this scenic hill shrouded in legend, because of its connection with the story of Birutė, Grand Duchess of Lithuania. The figure of Birutė, the mother of Vytautas the Great, became very popular in the 19th century, as is reflected in several literary works. Several versions of her story circulated: one of them depicted her as a saint. On the other hand, Birutė Hill was perceived as a sacred pagan site. The inscription on the back of the painting indicates that it portrays an individual called Maria Rowinska kneeling by the chapel; unfortunately, it is not known why Alchimowicz chose to paint her.
Text author Rūta Janonienė
Source: Valiunas Ellex (LAWIN until 2015) art album: THE WORLD OF LANDSCAPES I (2010). Text authors Nijolė Tumėnienė, Dalia Tarandaitė, RES PUBLICA (2018). Compiler and author Rūta Janonienė
Expositions: "The Age of Romanticism",
11
September
2019
–
6
August
2020
, Lithuanian Art Centre TARTLE (Užupio St. 
4

0
, Vilnius). Curator Rūta Janonienė. "The Painter of Pagan Lithuania: Kazimierz Alchimowitcz",
29
October –
6
November
2020
, Vilnius Picture Gallery (Didžioji St. 
4
, Vilnius).