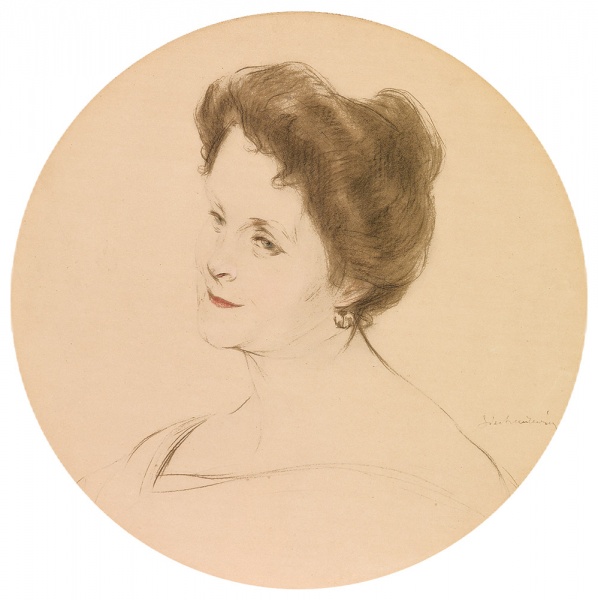 Portrait of Antonina Meysztowicza
Stanisław Bohusz Siestszeńcewizc (1869–1927) acquired a sound training in art at schools in St Petersburg, Paris and Munich. He was a popular artist, who painted and drew moving and dynamic scenes of everyday life and landscapes in Lithuania. He also carried out commissions for portraits. In 1900–1907, when travelling around Polish and Lithuanian estates, he painted and drew many portraits for private collections.
Antonina Meysztowiczowa (née Dzierżykraj-Morawska) married Szymon Meysztowicz (1876–1940), the son of Szymon Meysztowicz (1836–1888), from the estate of Meikštai (in the Ignalina district). The family owned the Ciecinas estate in the district of Ashmyany. After the First World War, they bought the Geranainiai estate, and, of course, they visited Vilnius.
This intimate portrait of an aristocratic lady, deftly sketched in swift and precise lines, captures her expression in a way that is characteristic of the work of Stanisław Bohusz Siestrzeńcewicz. A smile plays across her face, which is tenderly inclined, but since she is looking sideways, it also reflects a dreamy and sad state. The portrait seems to have been created in one sitting. It is known that when he was living in Vilnius, Stanisław Bohusz Siestrzeńcewicz painted a full-length formal portrait of Antonina Meysztowiczowa.
Text author Rūta Janonienė
Source: Valiunas Ellex (LAWIN until 2015) art album: MORE THAN JUST BEAUTY (2012). Compiler and author Giedrė Jankevičiūtė, RES PUBLICA (2018). Compiler and author Rūta Janonienė
Expositions: "The Age of Romanticism",
11
September
2019
–
6
August
2020
, Lithuanian Art Centre TARTLE (Užupio St. 
40
, Vilnius). Curator Rūta Janonienė. "Stanisław Bohusz-Siestrzeńcewicz 18
6
9–
1927
",
28
October –
12
December
2021
, Vilnius Picture Gallery. Curator of the exhibition Eliza Ptaszyńska (Suwałki Regional Museum).