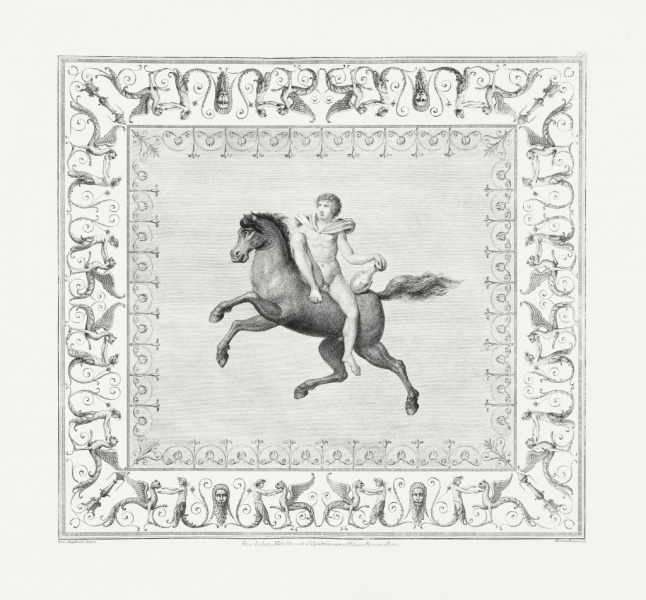 Engraving no. 46 from "Le antiche camere..."
The famous book of Nero's Domus Aureus wall paintings Vestigia delle Terme di Tito is made up of 60 graphic folios, with copies of the compositions of the Classical paintings. Most of the engravings were based on drawings by Franciszek Smuglewicz (1745–1807) ) or on combined drawings by him and Vincenzo Brenna (1745–1830). The book, which was published in Rome in 1776 at the initiative of the publisher Ludovico Mirri, immediately came to the attention of lovers of the art of Antiquity, and a second edition came out the same year. Its publication was a very complex task. Two versions, an expensive colour edition (the engravings were coloured by hand with watercolour and gouache), and a black and white version, were prepared together. Some of the books contained only outline drawings, without a complete reconstruction of the deteriorating frescoes. Contour versions of the publications had to be coloured painstakingly and subtly by hand, but some copies were left uncoloured. The publication was a major influence on late 18th and early 19th-century European art. Artists from different countries found models in it for their Neoclassical wall paintings. Franciszek Smuglewicz also used it as a reference for motifs and compositions for his paintings. For instance, the influence of engraving number 46 can be detected in his plafond The death of Marcus Curtius at the Roman Forum, painted in 1800–1801 at the Mikhailovsky Castle in St Petersburg.
The Ellex Valiunas collection has two complete editions of the bibliographic rarity Vestigia delle Terme di Tito, a black and white version and one with the outline drawings.
Text author Rūta Janonienė
Source: Valiunas Ellex (LAWIN until 2015) art album: RES PUBLICA (2018). Compiler and author Rūta Janonienė