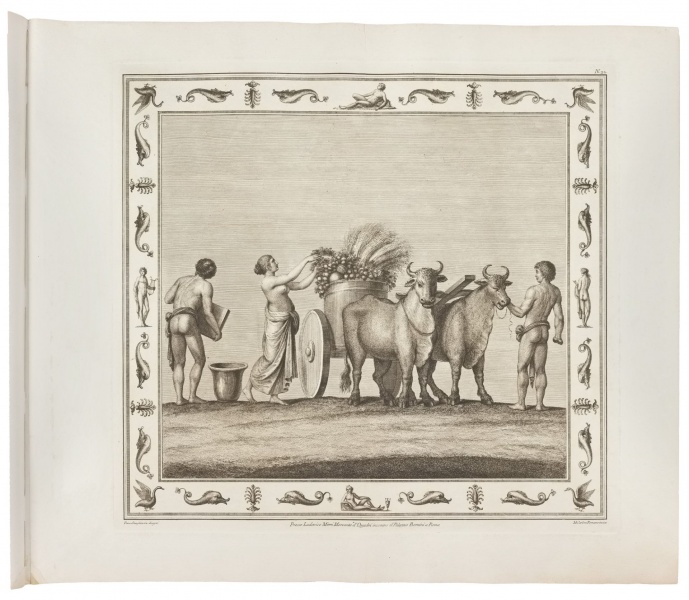 Copper engraving based on Franciszek Smuglewicz's watercolour
Copper engraving based on Franciszek Smuglewicz's watercolour from the book Vestigia delle terme di Tito e loro interni pitture, Rome: Ludovico Mirri, 2nd edition, No. 32, 1776.
This picture is a product of the antiquarian tradition rooted in the epoch of the Renaissance, but it sheds light on the development of the still-life too. It is quite clear that by depicting a two-wheel cart hauled by oxen and full of fruit and other products of nature, the decorators of the baths of Titus, part of the Roman tyrant Nero's summer house at Domus Aurea which the Emperor Titus converted into his baths, wanted to express an allegory of autumn. Like similar 18th-century publications, the book of reproductions of watercolours by Franciszek Smuglewicz (1745–1807) and the architect Vincenzo Brenna (1745–1830) published by Ludovico Mirri, an antiquarian from Rome who financed the excavation of Titus' baths, confirms the fact that the Romans were sometimes concerned with the allegorical purpose of art, and sometimes merely with decorativeness. Copies of Roman murals influenced the taste of the 18th-century public and works by still-life artists from that time. There was a huge interest in Antiquity and Antique relics. For instance, the first edition of Mirri's book sold out immediately. The second in 1776 did not remain on the shelves for long either. He intended to bring out one more edition, a book of colour engravings only, but his plan remained unfulfilled.
Text author Giedrė Jankevičiūtė
Source: Valiunas Ellex (LAWIN until 2015) art album: OBJECTS ON SHOW (2017). Compiler and author Giedrė Jankevičiūtė