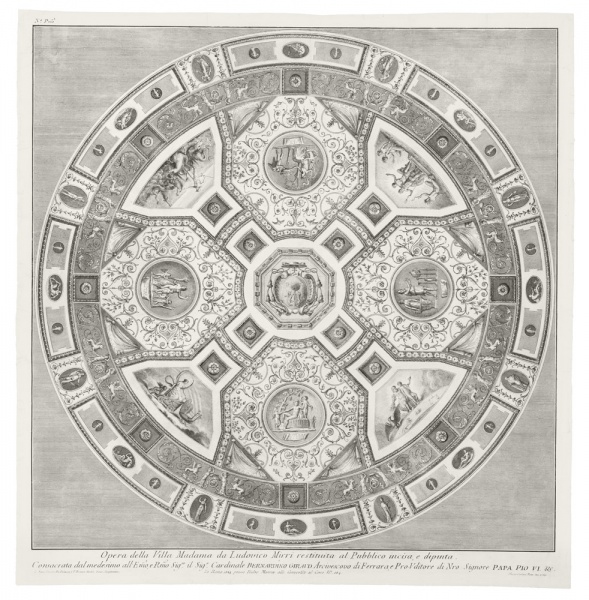 The dome of the garden loggia at Villa Madama
Author:
Marco Carloni (

174

2–

179

6)

Created:

181

4
Material:
paper
Technique:
copper engraving
Dimensions:

67.80

×

65.40

cm
Signature:

inscription top left: No. Pmo; bottom: Opera della Villa Madama da Ludovico Mirri restituita al Pubblico incisa, e dipinta / Consacrata dal medesimo all Emo, e Rmo Sigre. Il Sigr. Cardinale BERNARDINO GIRAVD Archivescovo /di Ferrara, e Pro Vditore di Nro Signore PAPA PIO VI. & C. / In Roma 1814 presso Pietro Manna alle Convertite al Corso No. 184.

bottom left: F. Smugliewicz Pit. Polacco, e V. Brenna Archit. Rom. disegnarono

bottom right: Marco Carloni Rom. inc. e dip
Engraving by Marco Carloni, based on drawings by Franciszek Smuglewicz and Vincenzo Brenna The dome of the garden loggia at Villa Madama.
The work done by Franciszek Smuglewicz (1745–1807) in Rome is only in the early stages of research. Copies of three drawings of vaults by Smuglewicz and Vincenzo Brenna (1745–1820), engraved by Marco Carloni (1742–1786), are also rare and little-known prints. The series was first published between 1776 and 1780 by Ludovico Mirri. The series was republished by another publisher, Pietro Manna, in 1814. The engravings had to be painted based on the concept (some known copies are coloured in tempera).
Villa Madama is a Renaissance villa on the outskirts of Rome, which was started in the early 16th century by Pope Leo X, based on a design by Raphael (1483–1520). Unfortunately, the villa was abandoned for a long time and left to decay, and the stucco and paintings which decorated the beautiful garden loggia deteriorated. It is reasonable to assume that the precise copies of the central dome of the loggia and two vaults which Smuglewicz and Brenna drew later helped in the restoration and preservation of this unique monument. The decoration of the loggia, which was built to imitate the architecture of Classical baths, was inspired by Nero's Domus Aureus, discovered in the late 15th century (it was then assumed to be the palace of Titus). Because of this, the loggia attracted the attention of late 18th-century artists who admired Classical painting. The 16th-century frescoes feature different mythological subjects, while the central dome of the loggia shows the four seasons, the four elements, the deities guarding the planets, and other allegorical figures. The coat of arms of Cardinal Julio Medici, the future Pope Clement VII, is in the centre of the dome.
Text author Rūta Janonienė
Source: Valiunas Ellex (LAWIN until 2015) art album: RES PUBLICA (2018). Compiler and author Rūta Janonienė
Expositions: "Franciszek Smuglewicz. From ancient Rome to Vilnius University",
13
May
2021
–
13
March
2022
, Vilnius Picture Gallery (Didžioji St.
4
, Vilnius). Curator of the exhibition Dalia Tarandaitė.