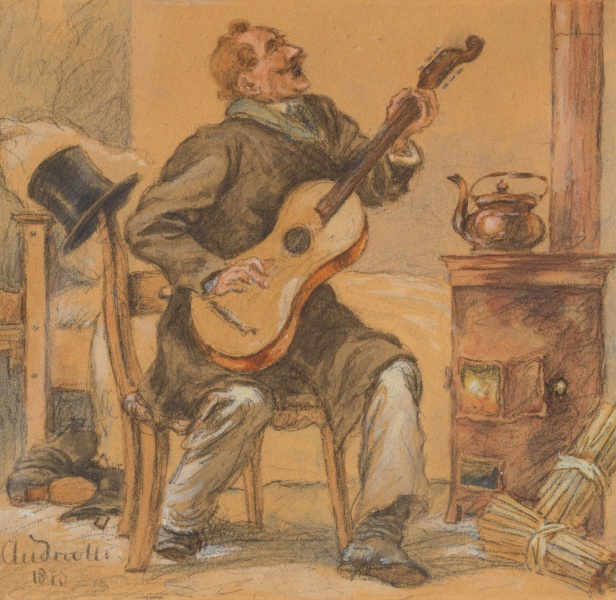 Long live bachelorhood! (Wiwat kawalerski stan!)
This humorous domestic scene is an ironic look at the joys of a carefree bachelor life, and was based on the words of a popular song. It is likely that the song was linked to a refrain from the first scene in the famous opera The Haunted Manor by Stanisław Moniuszko, where the brothers Stefan and Zbigniew foreswear women. Both noblemen promise to devote their lives to the homeland, by remaining free from the bondage of family life, so that they are ready to perform military service at any time. The patriotic spirit blends with comedy in the opera. The drawing by Michał Elwiro Andriolli (1836–1893) captures the contrast between the characters in the opera by Moniuszko, adhering to 18th-century knightly ideals, and the debauched and impoverished 19th-century bachelor. The artist characterises his protagonist deftly in an expressive and dynamic drawing, also capturing his somewhat shabby home, warmed only by logs burning in a metal stove (these stoves, which were popular from the mid-19th century, were first used in poor homes). We feel that the artist disapproves of the bachelor's misspent life, but does not condemn him. However, the picture expresses a hint of regret for the outward bravado of the impoverished gentry, reduced and stripped of past ideals.
A woodcut based on this watercolour was published on the first page of the illustrated Warsaw weekly Kłosy on 18/30 December 1875. There are references to a later composition on the same theme by Michał Elwiro Andriolli in other publications, which indicates the popularity of the theme.
Text author Rūta Janonienė
Source: Valiunas Ellex (LAWIN until 2015) art album: OBJECTS ON SHOW (2017). Compiler and author Giedrė Jankevičiūtė, RES PUBLICA (2018). Compiler and author Rūta Janonienė
Expositions: "The Age of Romanticism",
11
September
2019
–
6
August
2020
, Lithuanian Art Centre TARTLE (Užupio St. 
40
, Vilnius). Curator Rūta Janonienė.