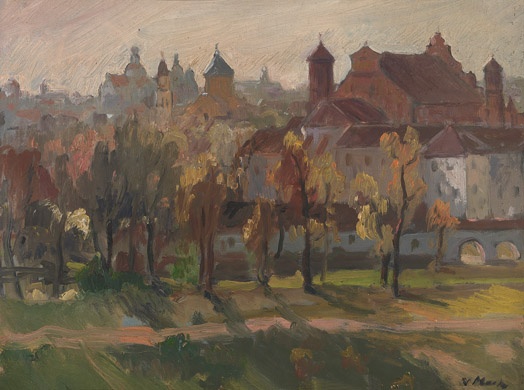 Old Vilnius
Vytautas Mackevičius (1911–1991) first attended a teacher training college in Šiauliai, but he did not become a teacher, and decided to become an artist instead. During the interwar period, he studied painting at Kaunas School of Art, and after graduating he was conscripted into the Lithuanian army. He won a scholarship from the Ministry of Defence, and in 1938 and 1939 he improved his painting skills in Paris. He studied under Charles Guérin, a master of Post-Impressionist painting in the manner of Cézanne, who built on the unity of composition and colouring, and on the principles of moderate, synthesised forms and a sensitive perception of colours. The townscape Old Vilnius, painted during the Second World War, reflects his lessons under Guérin. The Bernardine Gardens, with the Bernardine friary and church towers behind them, are painted from Bekešas Hill. The artist used back-lighting, with sunlight coming from the other side of the Old Town, which allowed him to emphasise some parts, and plunge the rest into shadow, thus giving the exalted feeling of a colourful city in the autumn.
Source: Law firm Valiunas Ellex art album VILNIUS. TOPOPHILIA I (2014). Compiler and author Laima Laučkaitė
Expositions: "Vilnius. Topophilia. Views of Vilnius from the collection of the law firm Ellex Valiunas",
5
October –
26
November
20

1

7
, National Gallery of Art, Vilnius. Curator Laima Laučkaitė; "A Glance at the History of Lithuanian Art from Užupis",
30
August
20

1

8
–
1
June 20
1
9, Lithuanian Art Centre TARTLE (Užupio St. 
40
, Vilnius). Curator Giedrė Jankevičiūtė.