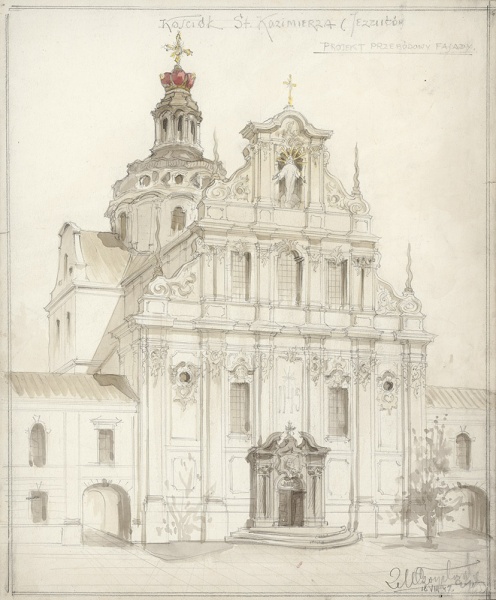 The Church of St Casimir
Author:
Zygmunt Mieczyslaw Czaykowski (

188

7–

195

0)

Created:

194

7
Material:
paper
Technique:
pencil
Dimensions:

31

×

26

cm
Signature:

bottom right: signature / 18 VIII 47, inscription at the top: KOSCIÓŁ St. Kazimierza (Jezuitów) / PROJEKT PRZEBÓDOWY FASADY
The first Baroque church in Vilnius, built by the Jesuits in 1610, was dedicated to Prince Casimir, the patron saint of Lithuania. It has been subject to political upheavals more than any other church in Vilnius: under the Russian Empire it was turned into the Orthodox Church of St Michael, and during the First World War it was made into a Calvinist church for the German army. In order to turn the Catholic church into an Orthodox one, its façade was rebuilt, and the towers and the dome were rebuilt with onion domes. When the church was returned to the Jesuits in 1942, the bulbous dome was replaced by the royal crown of the Jagiellonian dynasty. The façade and the towers of the church were damaged in bombing in 1944, and this architect suggested a design for their restoration: the top of the façade, without twin towers, was to be replaced by a triangular fronton. This design was not implemented.
Source: Law firm Valiunas Ellex art album VILNIUS. TOPOPHILIA I (2014). Compiler and author Laima Laučkaitė
Expositions: "Didžioji Street",
26
 September 
2019
 –
12
 January 
2020
, Vilnius Picture Gallery (Didžioji St. 
4
, Vilnius). Curators: Margarita Matulytė (project leader), Justina Augustytė, Donatas Snarskis.