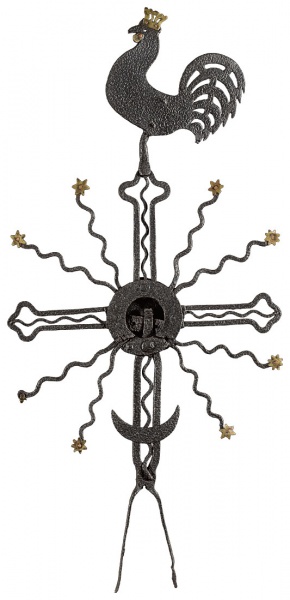 The top of a monument
Author:
Unknown smith

Created:

19

th century
Material:
iron
Technique:
wrought iron
Dimensions:

73.50

×

35

cm
Tauragnai, Utena district
Traditional small architectural objects in Lithuania were decorated at the top with wrought-iron crosses. These were mounted on the roofs of roadside shrines, and sometimes on crosses, and on gates into cemeteries or churchyards. Wrought-iron crosses also decorated religious buildings, such as churches, chapels and bell towers.
Wrought-iron crosses were made all over Lithuania, but mostly in Žemaitija and Aukštaitija, where roadside shrines were common. Often their roofs were crowned with several iron crosses.
Some had weather-vanes which rotated in the wind, usually on the lower part, but sometimes on the upper part too. Weather-vanes were usually in the form of a rectangular flag, ending in various shapes, such as a trumpeting angel, or less often a fish, a bird, or a stylised plant. Often a date was written on the flag, and
sometimes a simple decoration or a cross.
The silhouette of a cockerel makes this particular weather-vane distinctive and unusual. Few tops like this with a recognisable species of bird have survived in Lithuania. The unknown blacksmith gave the cockerel an expressive silhouette, with a gracefully curved body, a large openwork tail, a comb like a crown, and a wattle under the beak. The openwork cross contains curved rays. Between the arms are two wavy rays with starlets at the ends. Weather-vanes in the form of a cockerel have been known in Europe for a long time: they symbolise alertness, and the victory of light over darkness.
Text author Skaidrė Urbonienė
Source: Law firm Valiunas Ellex art album HEAVEN AND BEYOND (2016). Compiler Dalia Vasiliūnienė. Text authors Dalia Vasiliūnienė, Skaidrė Urbonienė
Expositions: "Heaven and Beyond. Works of religious art from the collection of Rolandas Valiūnas and the law firm Valiunas Ellex",
31
May–
24
September
2016
, Church Heritage Museum, Vilnius (curators Dalia Vasiliūnienė, Skaidrė Urbonienė)