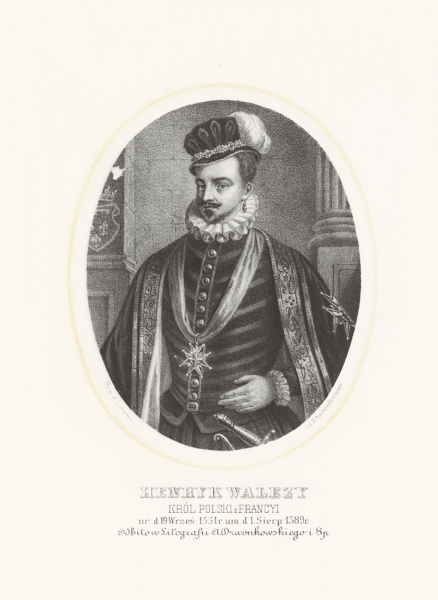 Henri Valois
Author:
Henryk Aschenbrenner (

182

9–

189

5)

Created:

186

1
Material:
paper
Technique:
litograph
Dimensions:

26

×

19

cm
Signature:

centre left: Rys. A. Lesser
centre right: Lit. H. Aschenbrenner
After Alexander Lesserį (1814–1884).
Królowie polscy, wizerunki zebrane i rysowane przez Alexandra Lessera, Warszawa, 1861.
Henry of Valois, King of Poland and Grand Duke of Lithuania, was the first ruler elected by the nobles. He was crowned in 1573 and had been reigning for only five months when he became King Henry III of France. The Henritian Articles (the King's agreement with his constituent nobility) was a concise constitution of the state to be ratified by each successive king, which remained in effect until the collapse of the Commonwealth. It provided for election of kings (the throne was not hereditary), convocation of the Seimas at least twice a year, and matters of utmost state importance to be decided by the Seimas.
Source: Valiunas Ellex (LAWIN until 2015) art album: DELINEATIO LITUÆ (2009). Text authors Jevgenij Machovenko, Algimantas Muzikevičius, RES PUBLICA (2018). Compiler and author Rūta Janonienė