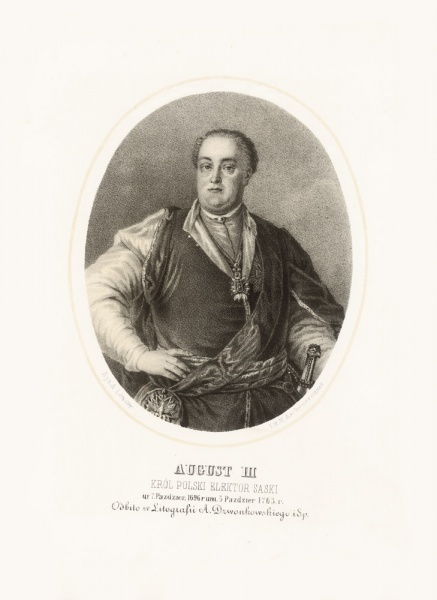 Augustus III
Author:
Henryk Aschenbrenner (

182

9–

189

5)

Created:

186

1
Material:
paper
Technique:
litograph
Dimensions:

26

×

19

cm
Signature:

centre left: Rys. A. Lesser
centre right: Lit. H. Aschenbrenner
After Alexander Lesserį (1814–1884).
Królowie polscy, wizerunki zebrane i rysowane przez Alexandra Lessera, Warszawa, 1861.
During the reign of Augustus III, King of Poland and Grand Duke of Lithuania (1733–1763), rows among the nobles paralysed parliamentary activities and due to the liberum veto the Seimas was unable to pass resolutions; military discipline became lax and finances deteriorated. The country was devastated by the Seven Years War (1756–1763), which resulted in division of Europe into two large blocks: Austria, Russia, France, and Saxony against Prussia supported by England. Although the Commonwealth was not involved in the war, the Russian army marched into Prussia via Lithuania.
Source: Valiunas Ellex (LAWIN until 2015) art album: DELINEATIO LITUÆ (2009). Text authors Jevgenij Machovenko, Algimantas Muzikevičius, RES PUBLICA (2018). Compiler and author Rūta Janonienė