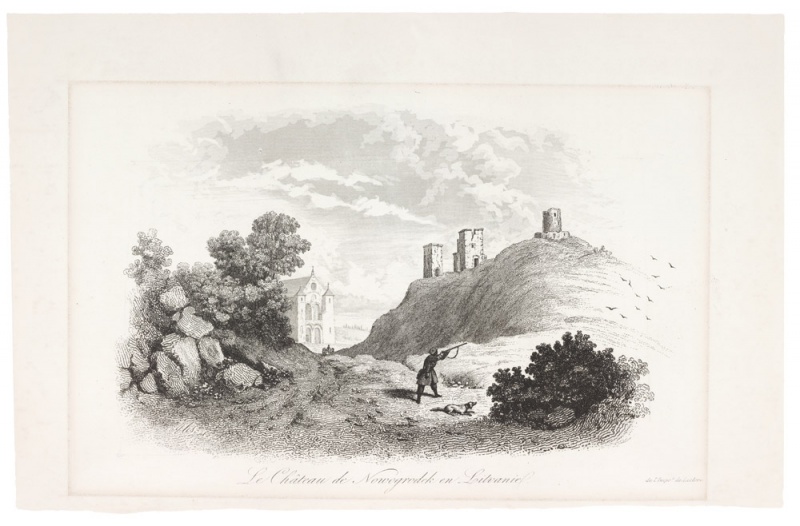 Navahrudak Castle
Author:
Auguste-François Alés (

179

8–

187

8)

Created:

183

6
Material:
paper
Technique:
steel engraving
Dimensions:

17

×

26.50

cm
Signature:

on engraving, bottom left: Ales del. et sculp
CHODZKO LEONARD, LA POLOGNE HISTORIQUE, LITTERAIRE, MONUMENTALE ET PITTORESUE, PARIS, 1835–1847.
Picturesque ruins of castles appealed to the Romantic era, for they evoked the glorious past, and illustrated vividly the relentless passing of time and its power to tear down what human hands had put up. Nineteenth-century artists made numerous drawings of Navahrudak castle. As some historians considered Navahrudak to be King Mindaugas' capital, it was considered to be a special historic site. By the mid-19th century, it had acquired a new attraction as the birthplace of the national bard Adam Mickiewicz, and was celebrated in his poetry.
The engraving by the French engraver Auguste-François Alés (1798–1878) published in the first volume (p. 264) of Leonard Chodźko's La Pologne historique, littéraire, monumentale et pittoresque (Historical, Literary, Monumental and Picturesque Poland, Paris, 1836–1837, 1838) was based on a drawing by an anonymous artist. The ruins of the castle are depicted on a steep hill , with its crumbling towers contrasted against the sky, and the parish church of Navahrudak at the foot of the hill. A hunter with a dog in the foreground shooting birds adds a touch of life to the landscape, and contrasts with the grandeur of this historic place. The artist seems to be suggesting that now only wild birds nest in a place that used to be the residence of Lithuania's rulers. This view of the castle could possibly have been drawn from memory by Adam Mickiewicz's brother Franciszek. He was a gifted artist, and lived in Poland after the 1831 uprising. (The Adam Mickiewicz Museum in Paris has a watercolour closely resembling this engraving that he gave to his visiting nephew.)
Text author Rūta Janonienė
Source: Valiunas Ellex (LAWIN until 2015) art album: RES PUBLICA (2018). Compiler and author Rūta Janonienė
Expositions: "The Age of Romanticism",
11
September
2019
–
6
August
2020
, Lithuanian Art Centre TARTLE (Užupio St. 
40
, Vilnius). Curator Rūta Janonienė.