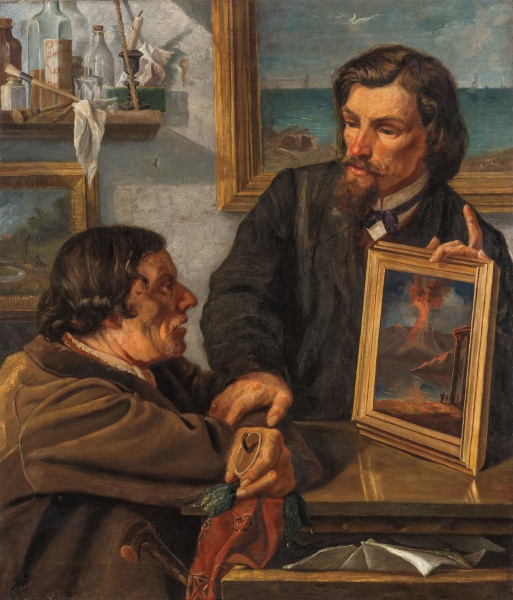 Provincial art
Author:
Roman Alekna-Szwoynicki (

184

5–

191

5)

Created:

187

2
Material:
canvas
Technique:
oil
Dimensions:

90

×

78

cm
Signature:

bottom right (on paper in the drawer): R. Szwojnicki 1872
This picture was painted when Roman Alekna-Szwoynicki (1845–1915), a nobleman and the owner of the Rodai estate, went to live in Warsaw after his return from Tobolsk, where he had been exiled for his participation in the 1863 uprising. In 1871–1873, he attended the private painting studio in Warsaw run by Wojciech Gerson (1831–1901). The picture Provincial art is a self-portrait. This is proven by a photograph of him and his son in the regional museum in Panevėžys. Although the photograph was taken in 1902 or 1903, 30 years after he studied under Gerson and painted Provincial art (the artist married in 1898, so that in the photograph his son would have been three or four years old), it is evident that even as he was approaching 60, he managed to preserve the same vigorous, almost waspish, looks that he had when he was 27. His impressive moustache was still bushy, too. A shelf with artist's materials and tools helps us understand the content of the composition. Furthermore, this still-life shows Szwoynicki's abilities to represent the material qualities of natural objects very well. This was very important to him, for after leaving Warsaw, he continued to improve his skills at Munich Academy of Art, which was famous for its strong artistic traditions. It seems that both he and his critics were satisfied with the scene in the artist's studio, for in 1873 the picture was displayed in the exhibition of the Zachęta Polish Society for the Encouragement of Fine Arts (J. Wiercińska, Katalog prac wystawionych w Towarzystwie Zachęty Sztuk Pięknych w Warszawie w latach 1860–1914, Wrocław, 1969, p. 369).
Text author Giedrė Jankevičiūtė
Roman Szwoynicki (1845–1915) came from the estate of Rodai, near the town of Panevėžys, and also died there. He is known best as a painter of domestic scenes of the nobility of the 17th and 18th century, and for his allegorical and symbolic compositions. He also had an eye for recording actual events and customs of his times. The painting Provincial art dates from when he lived in Warsaw, where he arrived in 1869 (after being exiled for participating in the 1863 uprising, Szwojnicki could not return to Lithuania for a long time). This is a very interesting piece, produced while he was studying at the private school of Wojciech Gerson. It shows some characteristic features of his later work: a story told in imagery, a predilection for anecdotal everyday scenes, and the ability to use the subject to create a general image with a broader meaning and implications. The composition is an ironic scene from provincial life, in which an artist is trying hard to convince a buyer, who is not very confident, to open his drawstring money bag and purchase an exotic little painting that shows the eruption of a volcano (probably Mount Vesuvius). he artist ridicules the provincial's approach to art, and indirectly advocates support for local art that is not trivial, but which looks at topical problems in society and embodies social ideals.
Text author Rūta Janonienė
Source: Valiunas Ellex (LAWIN until 2015) art album: OBJECTS ON SHOW (2017). Compiler and author Giedrė Jankevičiūtė, RES PUBLICA (2018). Compiler and author Rūta Janonienė
Expositions: "The Break of Dawn. Lithuanian Visual Arts prior to
1918
",
10
May –
31
May 
2019
, M. K. Čiurlionis National Museum of Art (V. Putvinskio St.
55
, Kaunas)