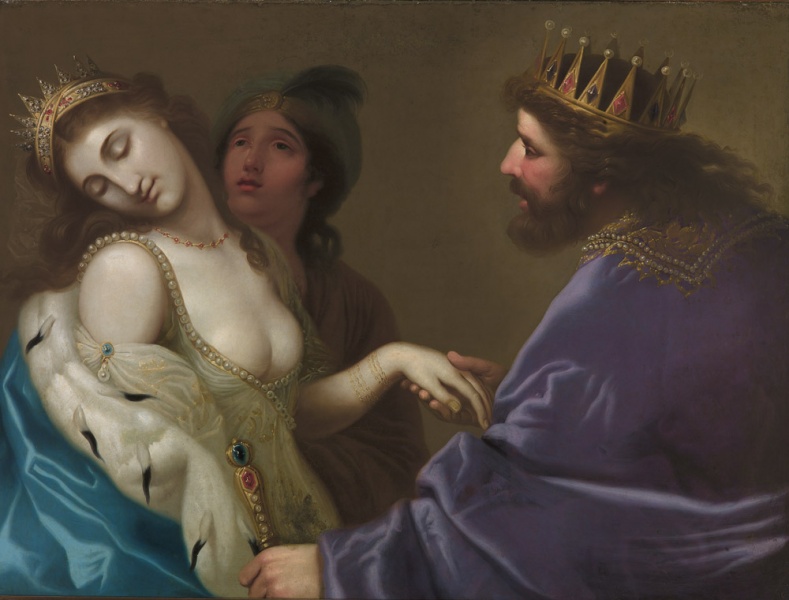 Esther before Ahasuerus
Author:
Franciszek Smuglewicz (

174

5–

180

7)

Created:

177

8
Material:
canvas
Technique:
oil
Dimensions:

78

×

106

cm
Signature:

inscription, on the back: Ester Krolowa wstawia się za Ludem / Izraelskim do Krola, ktory Lud był / uciśniony od Hamana. // Malował sławny Franciszek Szmuglewicz Polak w Rzymie / 1778 Roku
This picture by Franciszek Smuglewicz (1745–1807), from his Roman period (1763–1784), illustrates an episode from the Book of Esther about King Ahasuerus, the ruler of 'one hundred and twenty-seven provinces from India to Ethiopia', his disobedient wife Vashti, and Esther. Esther was a niece of the wise courtier Mordecai the Jew, was crowned instead of Vashti, and then, risking her life, went to the king uninvited to save her people from persecution by Ahasuerus' vizier Haman. As it is written in the Old Testament, when Esther entered the throne room and saw the ruler, she 'faltered, turned pale and fainted upon her maid' (AddEsth.15:7). This clear expression of respect and humility softened Ahasuerus' rage. Overwhelmed by pity and compasssion, he touched her shoulder with his gold sceptre, thus showing his forgiveness for her impertinence in entering the palace, where women were not permitted. This is the episode that Smuglewicz depicted. But people who do not know the story will see little piety and self-sacrifice in the image of Esther, for the eye is drawn by the woman's sensuality, accentuated by the ermine-lined silk shawl slipping off her pale shoulders, while the further course of events is shown in the characters' body language. People who do know the Book of Esther will undoubtedly see more. Many works of art from the 16th to the 18th centuries are distinguished by such multilayered meanings, in which biblical motifs are given a strong erotic flavour.
Text author Giedrė Jankevičiūtė
From 1766, while studying in Rome, Franciszek Smuglewicz (1745–1807) received financial support as an official stipendiary from Stanisław Poniatowski, the King of Poland and Grand Duke of Lithuania. Poniatowski attached great importance to the patronage of the arts, and added drawings by Smuglewicz to his collection (he had over a hundred). He also commissioned specific works from the artist, either copies or as original compositions. The canvas Esther before Ahasuerus was a commission for him. Not only did he specify the theme, but he also described the composition. He wanted a painting of Esther fainting before Ahasuerus. The story comes from the Book of Esther in the Old Testament, and tells how Queen Esther, the Jewish wife of the powerful pagan King Ahasuerus, risked her life by violating palace rules to ask for her people to be spared from the king's henchman. The composition shows not only the dignity of the ruler, who forgave his wife's impudence, but also the sacrifice of Queen Esther and her concern for her people.
The artist initially had to send Stanisław Poniatowski a sketch of the painting, and later a decision was made on the format. It seems that Smuglewicz painted more than one commissioned painting on this theme. His later works in Poland include two similar pieces: Esther and Ahasuerus was in the art collection of Tomasz Zieliński in Kielce in the mid-19th century, while Fainting Esther was in the collection of the Dobzyca estate.
Text author Rūta Janonienė
Source: Valiunas Ellex (LAWIN until 2015) art album: MORE THAN JUST BEAUTY (2012). Compiler and author Giedrė Jankevičiūtė, HEAVEN AND BEYOND (2016). Compiler Dalia Vasiliūnienė. Text authors Dalia Vasiliūnienė, Skaidrė Urbonienė, RES PUBLICA (2018). Compiler and author Rūta Janonienė
Expositions: "More Than Just Beauty: The Image of Woman in the LAWIN collection",
1

2
October –
1
1
November
20
1

2
, National Gallery of Art, Vilnius (curator Giedrė Jankevičiūtė); "Heaven and Beyond. Works of religious art from the collection of Rolandas Valiūnas and the law firm Valiunas Ellex",
3

1
May–
2

4
September
20

1

6
, Church Heritage Museum, Vilnius. Curators Dalia Vasiliūnienė, Skaidrė Urbonienė; "Under Italian Skies. Lithuanian artists' works from the
1

8
th– first half of the
20
th centuries",
1
December
20
1
7 –
1
9 August
20
1

8
, Vilnius Picture Gallery (Didžioji St.
4
, Vilnius). Curators: Dalia Tarandaitė (project leader), Rūta Janonienė, Giedrė Jankevičiūtė; "A Glance at the History of Lithuanian Art from Užupis",
30
August
20
1

8
–
1
June
20
1
9, Lithuanian Art Centre TARTLE (Užupio St. 
4
0, Vilnius). Curator Giedrė Jankevičiūtė.